Why Choose EZCast Pro

LAN

/

Dongle

/

Box




Compare EZCast vs. Awind wePresent
Comparison

EZCast Pro Dongle D01

Awind wePresent WiGa Dongle

Hardware
WiFi Capability
802.11b/g/n 2.4Ghz
802.11b/g/n 2.4Ghz
Antenna
MIMO 2T2R
1T1R
WiFi Bandwidth
300Mbps max
150Mbps max
WiFi Mode
AP mode, Client mode, AP-Client Concurrent Mode, WiFi Direct
AP-Client Mode
VGA Port
NA
Yes
HDMI Port
Yes, HDMI out
NA
MHL Interface
Yes, MHL 2.0 compatible
NA
Power
5V1A
5V1.2A
USB Port
Micro USB for Power in
NA
Ethernet
NA
NA
Other I/O
NA
NA
Max. Output Resolution
1920x1080
1280x800
Weight
30g
52g
Platforms Support
OS Support
Windows 7~10
Mac OS 10.9~10.11
iOS 8~9
Android 4.0~6.0
ChromeOS
Windows Phone 8.1
Windows 2000 / XP / Vista / 7
Windows Mobile 5/6
Mac OS X 10.5 and above
APP Popularity
Based on EZCast with millions of users
Based on Clickshare and MirrorOP with less than 1M users
APP Updates
Monthly updates
Irregular updates
AirPlay Mirror
Yes, Support iOS9
NA
Miracast
Yes
NA
Android 5.0 Screen Mirror
Yes
NA
App Features
Photo Cast
Yes
Yes
Sketch Tool
Yes
NA
Video Streaming
Full Formats
MPEG 1/2/4, DivX3/4/5, Xvid, H.264
Document Viewer
MS-Office, PDF, iWorks
MS-Office, PDF
Audio Streaming
Yes
NA
Cloud Drive
Dropbox, Google Drive, iCloud Drive
NA
Web Browser
Yes
NA
Cloud Video
Yes, EZChannel
NA
SplitScreen
4-in-1
Yes
Screen Control
Yes, Host Control
Passcode
Internet Radio
Yes
NA
Content Broadcast
Yes, AirView
NA
Issue Comment/Report
Yes
NA
FW Update OTA
Yes
NA
Conference Control
Yes
Yes
USB HID Device Support
NA
NA
AirControl
Coming Soon
NA
E-Store
Yes
NA
Price
Economic
High
hide
Comparison
EZCast Pro LAN B01
Awind wePresent WGA-310/510
Hardware
WiFi Capability
802.11b/g/n 2.4Ghz
802.11b/g/n 2.4Ghz
Antenna
MIMO 2T2R
MIMO 2T2R
WiFi Bandwidth
300Mbps max
300Mbps max
WiFi Mode
AP mode, Client mode, AP-Client Concurrent Mode, WiFi Direct
AP mode, Client mode, AP-Client Concurrent Mode
VGA Port
Yes, HDMI to VGA converter w/audio out
Yes
HDMI Port
Yes, HDMI out
Yes
MHL Interface
NA
NA
Power
5V1A
5V2.5A
USB Port
Micro USB for Power in
USB 2.0 x2
Ethernet
10M/100M bps
10M/100M bps
Other I/O
NA
Audio out
Max. Output Resolution
1920x1080
310: VGA1440x900/HDMI 1280x720
510: VGA 1440x900/HDMI 1280x720
Weight
65g
317g
Platforms Support
OS Support
Windows 7~10
Mac OS 10.9~10.11
iOS 8~9
Android 4.0~6.0
ChromeOS
Windows Phone 8.1
Windows XP / Vista / 7 / 8
Mac OS X 10.5 and above

WiFi-Doc: Android 2.2 and above
iPad / iPhone OS 3.2 and above
APP Popularity
Based on EZCast with millions of users
Based on Clickshare and MirrorOP with less than 1M users
APP Updates
Monthly updates
Irregular updates
AirPlay Mirror
Yes, Support iOS9
NA
Miracast
Yes
NA
Android 5.0 Screen Mirror
Yes
NA
App Features
Photo Cast
Yes
Yes
Sketch Tool
Yes
Yes
Video Streaming
Full Formats
NA
Document Viewer
MS-Office, PDF, iWorks
MS-Office, PDF
Audio Streaming
Yes
NA
Cloud Drive
Dropbox, Google Drive, iCloud Drive
NA
Web Browser
Yes
NA
Cloud Video
Yes, EZChannel
NA
SplitScreen
4-in-1
4-in-1
Screen Control
Yes, Host Control
Passcode
Internet Radio
Yes
NA
Content Broadcast
Yes, AirView
NA
Issue Comment/Report
Yes
NA
FW Update OTA
Yes
Yes
Conference Control
Yes
Yes
USB HID Device Support
NA
NA
AirControl
Coming Soon
NA
E-Store
Yes
NA
Price
USD 99.99
USD hundreds
hide
Comparison
EZCast Pro Box
Awind WiPG-2000
Hardware
WiFi Capability
802.11b/g/n/ac 2.4/5GHz
802.11b/g/n 2.4/5GHz
Antenna
Dual
Dual
WiFi Mode
AP mode, Client mode, AP-Client Concurrent Mode, WiFi Direct
AP mode, Client mode, AP-Client Concurrent Mode
VGA Port
Yes
Yes
HDMI Port
Yes
Yes
Power
5V2A
5V2.5A
USB Port
USB2.0 x1
USB 2.0 x2
Ethernet
10M/100M bps
10M/100M/1000M bps
Other I/O
Audio
Audio out
Max. Output Resolution
1920x1080
1920x1080
Weight
Platforms Support
OS Support
Windows 8~10
Mac OS 10.9~10.11
iOS 8~9
Android 4.0~6.0
ChromeOS
Windows Phone 8
Windows XP / Vista / 7 / 8
Mac OS X 10.5 and above
WiFi-Doc: Android 2.2 and above
iPad / iPhone OS 3.2 and above
APP Popularity
Based on EZCast with over 3 million users
Based on Clickshare and MirrorOP with less than 1M users
APP Updates
Monthly updates
Irregular updates
AirPlay Mirror
Yes, Support iOS9
Yes, only for iOS8
Miracast
Yes
NA
Android 5.0 Screen Mirror
Yes
Yes
System Features
Enterprise Router Support
WPA2 enterprise
WPA2 enterprise
Authority Control
Admin, Host, Guest
Moderator, Guest
Internet Access Control
Yes
Yes
USB-disk multimedia streaming
Yes, All video/music/photo formats, controlled by apps
Yes, controlled by remote controller
USB-disk document presentation
Yes, All video/music/photo formats, controlled by apps
Yes, controlled by remote controller
Touch Screen Support
Coming Soon
Yes
1 to many casting
Coming Soon
Yes
Touch Remote
Coming Soon
Yes
SNMPv3
Coming Soon
Yes
App Features
Photo Cast
Yes
Yes
Sketch Tool
Yes
Yes
Video Streaming
Full Formats
Yes
Document Viewer
MS-Office, PDF, iWorks
MS-Office, PDF
Audio Streaming
Yes
NA
Cloud Drive
Dropbox, Google Drive, iCloud Drive, Box.com
NA
Web Browser
Yes, with direct cloud video streaming
Only for Webpages
Cloud Video
Yes, EZChannel lists all favorite websites
NA
SplitScreen
4-in-1
4-in-1
Screen Control
Yes, Host Control
Passcode
Internet Radio
Yes
NA
Content Broadcast
Yes, AirView
Yes, WebSlides
Issue Comment/Report
Yes
NA
FW Update OTA
Yes
Yes
Conference Control
Yes
Yes
USB HID Device Support
Yes
Yes
AirControl
Coming Soon
NA
Price
Economic
High
hide
Advanced Features
Split Screen and AirView to provide an excellent solution for commercial and educational market.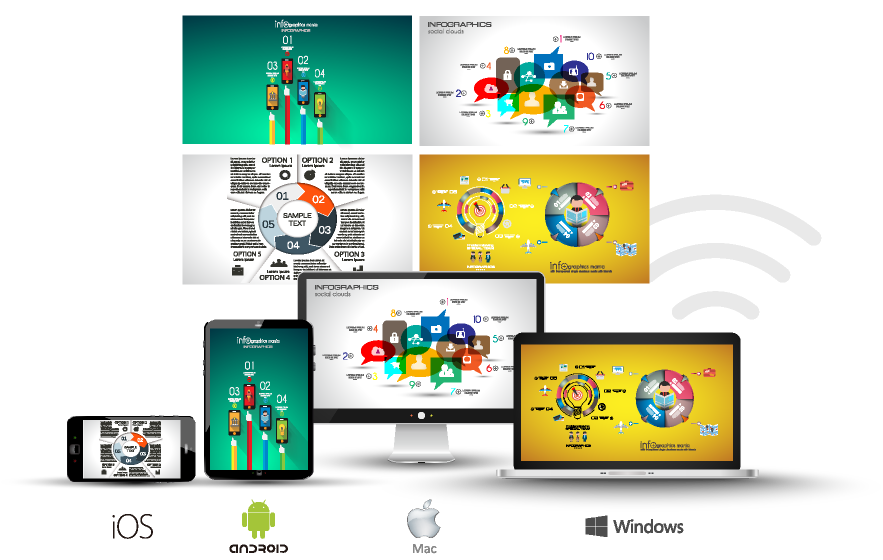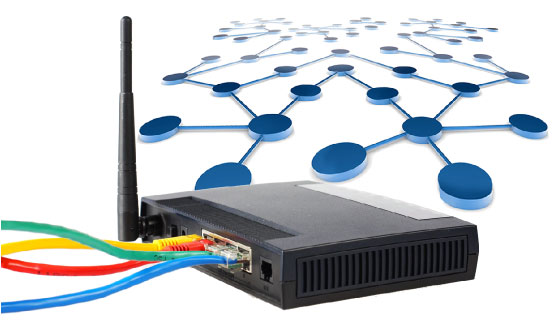 EZCast Pro supports enterprise WIFI router
PEAPv0, EAP-TLS & EAP-MSCHAPv2 protocol and Simple Certificate Enrollment Protocol (SCEP, paid options)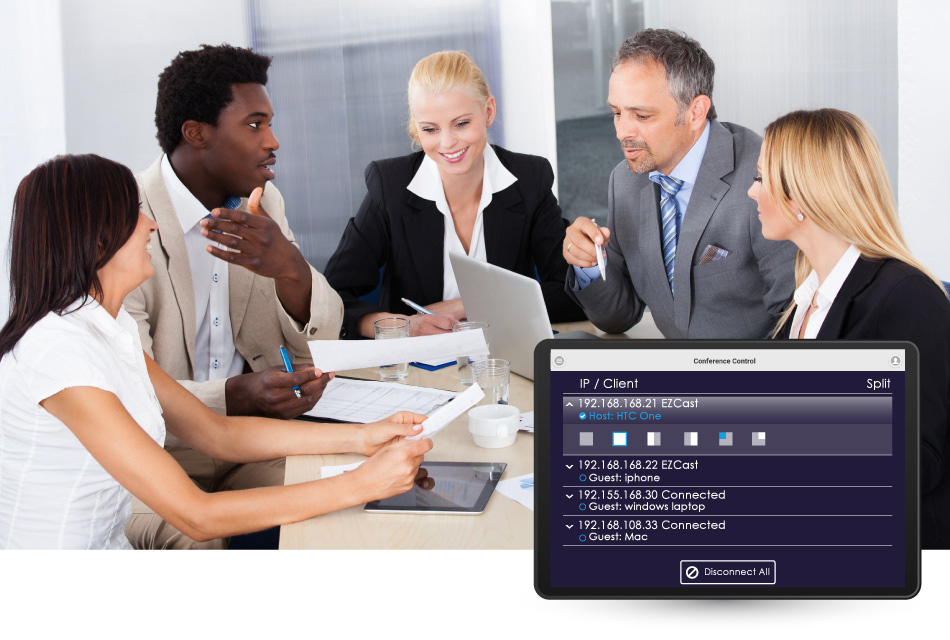 Conference control for efficient and effective meeting.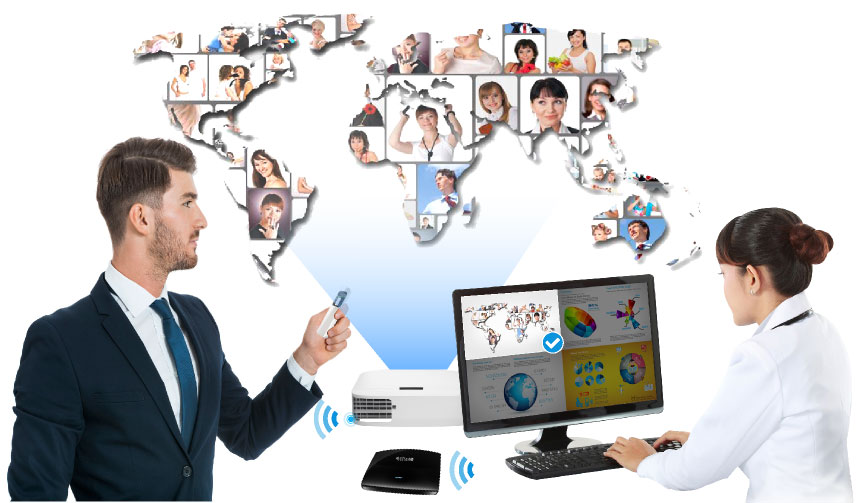 Far-site Administration
EZCast Pro now supports far-site administration control for display, conference, and setting

Easy to Use
New Host Control and Preferred Device features to let you control display easier.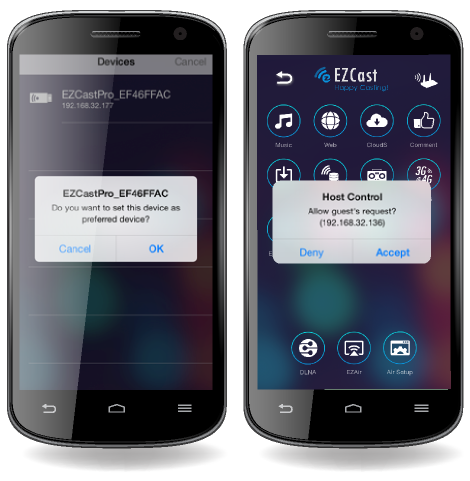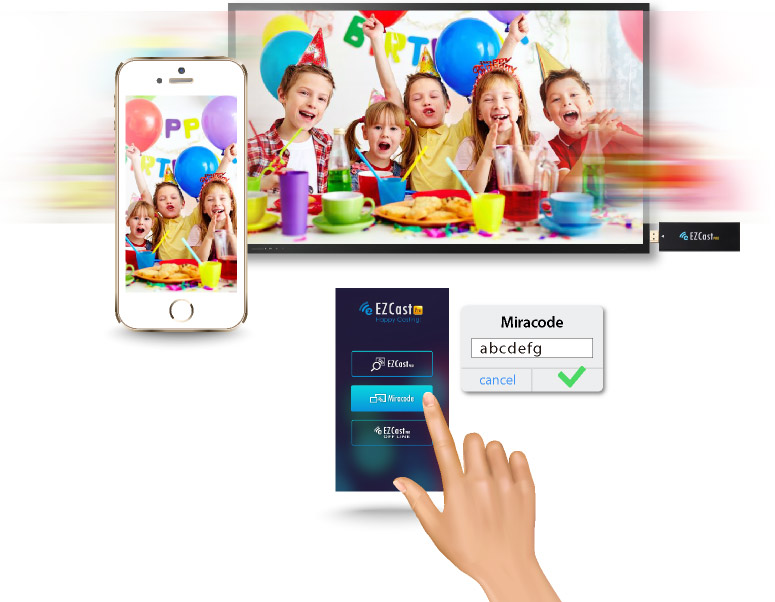 Miracode
Connect EZCast Pro devices by using Miracode without waiting for searching.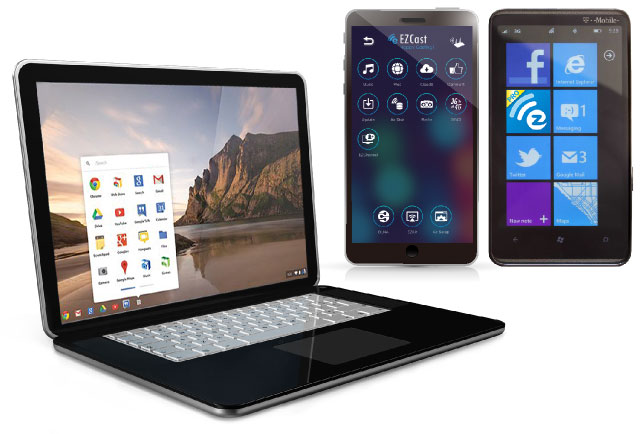 Windows Phone & Chrome OS EZCast Pro Released
After the releases of Chrome and Windows phone versions, EZCast Pro now supports all 6 most popular OS.

2.4G, 5G Dual Antenna
Dual Antennas for 5GHz & 2.4GHz WiFi for better WiFi throughput. Supports the most advanced WiFi 802.11ac standard.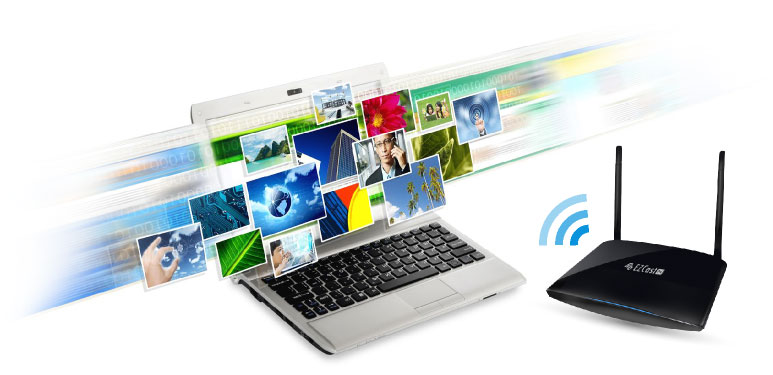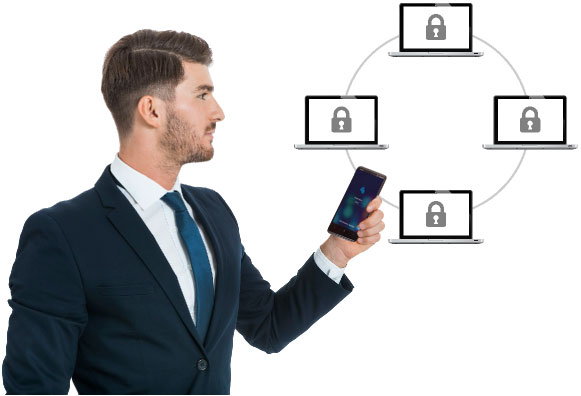 Authority Control
Three layered authority control balances user friendly and business security

Remote desktop
Support USB mouse and Multi-touch screen to control back the Windows/Mac desktop.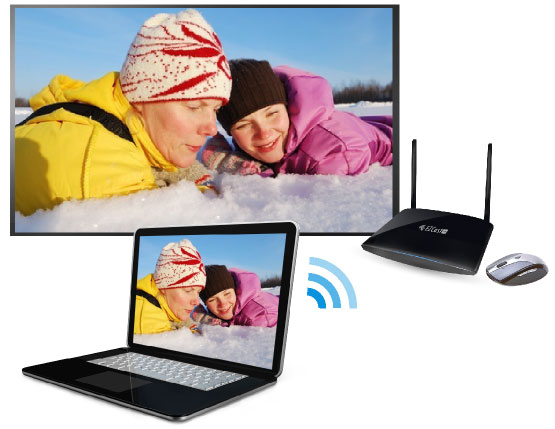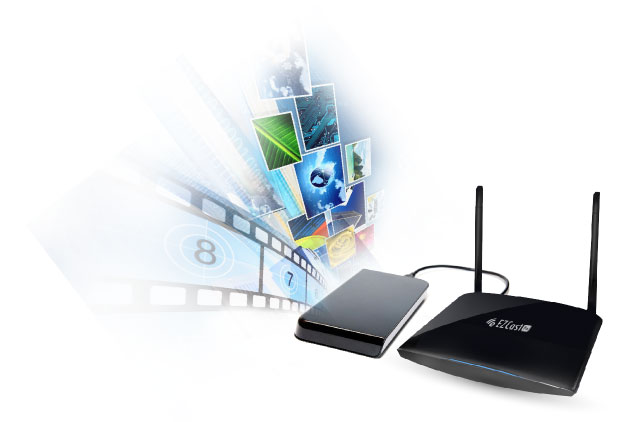 Air Disk
Air Disk allows users to playback video, music and document in external USB disk.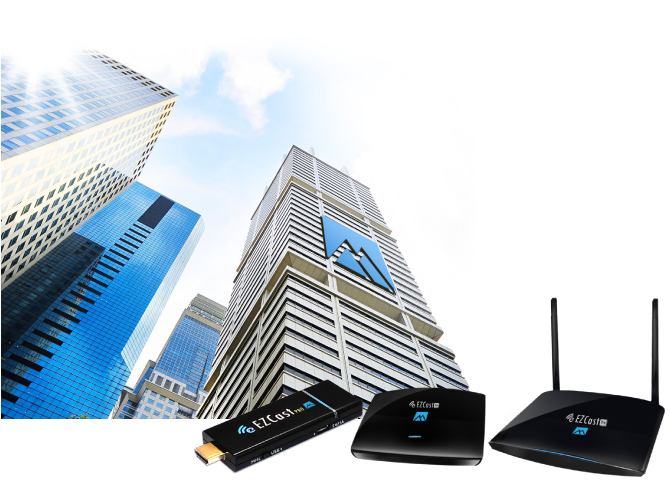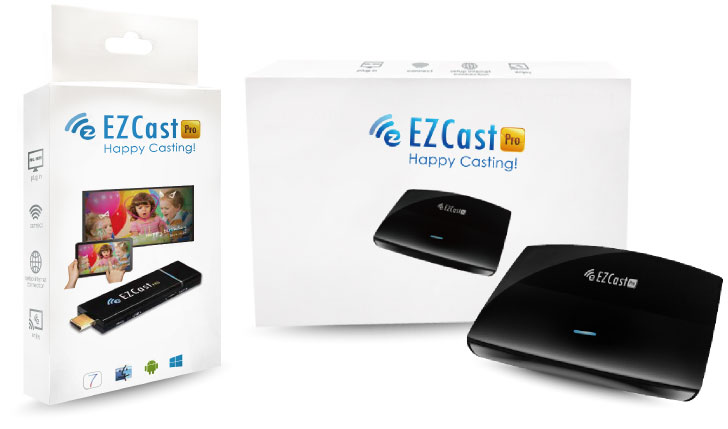 Buy it now
Order immediately to experience all new features of EZCast Pro product!
Minimum requirements for phones, tablets and laptops:
Android 4.2+, Windows 7+, iOS 8+, Mac 10.9+ (AirPlay from Mac 10.10), Windows phone 8.1+, Chrome OS 39+.